Responding Features
You use your cell phone for just about everything. Now use it to be a hero.
Pure Force's comprehensive mobile response solutions enable reduced response times, full situational awareness, and enhanced communications.
Historically, emergency response organizations and security organizations have grappled with the best way to locate first responders who are off-network (the "last-mile" problem) and dispatch the nearest, best-qualified, available responder to the scene. Pure Force was created to enable off-duty first responders to stay available for emergencies while maintaining their privacy. During an incident-in-progress, the command center has an effective, two-way communications channel with its responders, and can broadcast critical messages without sacrificing crew integrity.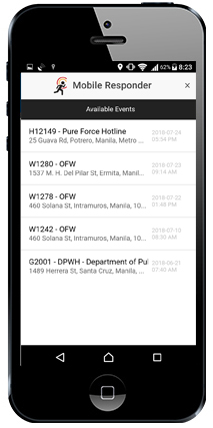 1
Speed up your emergency response time
With one click, indicate you're available to respond to an incident, and then get turn-by-turn navigation to the scene.
2
Transform your phone into a Mobile Data Terminal
Upload images and other critical information once you're on scene, providing full visibility of the incident to your command center and fellow responders. Request additional resources via the app's user-friendly, intuitive mobile interface. Dynamic forms enable responders to fill out post-incident reports and create new incidents from the field.
3
Maintain your privacy while off-duty and remaining available for emergencies
Your dispatcher/command center sees you as an "anonymous" responder when you're off-duty, but if there is an incident going on nearby, you still receive the alert. Only once you've indicated you're accepting the assignment will dispatch see your full profile.
4
Improve situational awareness
Stay abreast of other responders en-route or nearby. Help your entire emergency network gain visibility into the incident by relaying critical information and images from the scene.